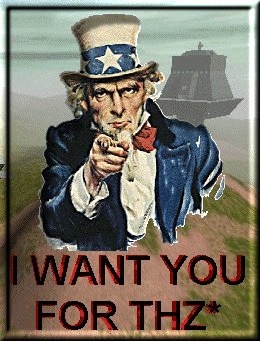 Hello and welcome to The Hounds of Zeus. Here is where you can sign up to be a member of our proud clan. But please read on so you know exactly what to expect.

In THZ we have developed an Application system that insures that we only get the members we really want, and that others we normally would not want do not get a chance to sneak by us. Although because of this process, it may take you a few weeks to be accepted into THZ.

Here are some expectations we have of our members:
---
[1] Must be at least 18 years old.
We require our members to be at least 18 years of age. In our 23+ years of viewing prior applicants, existing members, and the members of other clans, we have seen that this increases the chance that they will have time, dedication, and maturity to offer The Hounds of Zeus.

Were you born on or before August 09, 2004?
[2] Where are we?
Make sure that you check out what we play and what servers or types of games we play on our Where are we? page.
[3] Be friendly, courteous and fun
There is no point in ruining the game for everyone else, even if your own fun has been ruined. This applies outside of games... we do not tolerate rudeness, unneeded profanity or offensive behavior from any of our members, and so we will not accept an applicant we have observed this from.
[4] Be Vocal, Communication is Key
In and out of game, this is true. We like our members to keep in touch with us, so we can call practices, meetings, or just to have a good time with some friends. Please keep in contact with us in IRC, Read and Write on our Forums, and even send us e-mails... we love to hear from our friends. In game... make sure you know how to communicate your actions to the rest of the group... We suggest having a working microphone and a copy of Team Speak (www.goteamspeak.com) to help with communication in games.
[5] Be Honorable
No one is having fun when someone is being unfair. If your teams are uneven, be the first to offer to change teams... If someone is TKing, announce it to everyone and try to get the player to stop. Be on your best behavior all the time... When acting our best, people often have the best of times. And Don't be afraid to open up... Many of our members are good listeners if you need an ear to talk to... We can help...
[6] Be Dedicated
THZ expects all of it's members to be dedicated to the group of friends they have joined. There are times when people will feel they are not getting anywhere, or that the group is not for them... Patience is expected from you in a circumstance such as this. It is important that if you feel nothing is being done, you help out and make it happen rather than leave the group for someone who doesn't. If you cannot dedicate yourself to our group, we cannot accept you as a member.
---
Now that you have seen what we expect, we'd like to show you what you can expect to receive from THZ in the future, should you gain admittance into our tribe.

Listed below are some of what you can expect from us:
---
[1] E-mail Address
Every member in THZ has an e-mail address on thzclan.com. This is so we can contact you very easily. If you do not wish to have a new address, your new one will simply forward all mail to your current address. All addresses will be your player name. This means that you can e-mail any of us by e-mailing us at our user name, like this: player@thzclan.com. This is true for all of our members.
[2] Web space
Every member in THZ has access to a small web space for their own web site designs. Material is to be monitored for content and is subject to being taken offline. Space may be used for non-clan related sites, however.
[3] Forum Access
You will be granted access to our private forum sections if you are a full member and will be allowed to post and reply to topics in them.
[4] Server Access
You will have full access to all of our game and voice servers as well as a database of allied team servers.
[5] Friends
Expect nothing but! Friendship and fun is the whole reason we are together. When you join THZ we promise you most of all the right to voice your opinions and a forum to joke your heart out. Almost as much as we love playing games, we love keeping up appearances in #THZ chat!
---
Well now that you know what to expect and what we'll expect of you, post a new topic in the forum and we will authorize you to use the aTHZ* tag in front of your name if the game permits it. This way we will be able to monitor you easier. Thank you for coming to The Hounds of Zeus, we will do our best to make you feel at home.
---
Give us info on your skills, what areas you excel in. Skills are NOT and necessity, we want to have fun, not disciplined gaming.
Join us in irc.dynamix.com #THZ.
Look for and Join THZ* in-game.
We are accepting only MATURE players.
If you are accepted to be a THZ*, then you must not join any other Tribe unless you are leaving THZ, Teamplayer Guilds / Alliances are OK.